Awards upon awards, songs trending on TikTok, a doctorate degree, a new album, the first tour since 2018 and the announcement of her first self-directed feature-length movie – as usual, Taylor Swift has quite the list of achievements to look back on at the end of 2022. Even after more than 15 years into her career, the singer-songwriter has not lost a bit of her momentum; she still seems to be reaching higher grounds, if anything. So before the year ends let's enjoy everything that was her 2022. Ready for it?
Given the fact that Taylor rarely seems to not be involved in the music discourse, it shouldn't be surprising that she was present and/or nominated for almost every major award show and also managed to win an array of trophies. One of her most successful works was All Too Well (10 Minute Version) (Taylor's Version) for which she won Best Lyrics at the iHeartRadio Music Awards in March, followed by six awards for the song's music video All Too Well: The Short Film at the VMAs, EMAs and AMAs. Nice side-fact: She was the first artist to win a VMA for a self-directed video. Even her newest album Midnights already won the categories of Album of 2022 and Music Video of 2022 with its track Anti-Hero at the People's Choice Awards on December 7. With that, her total number of wins at six major awards shows this year lies at 20 – and her AMAs count at the record breaking total of 40. In 2022 words: She slayed!
Announced at the VMAs (where she actually wore a bejeweled dress) and released on October 21, Midnights for sure was the highlight of the year for many Swifties. It was made extra special by Taylor surprisingly dropping a 3am edition featuring six more songs three hours after the original release – talk about heart attack-inducing. And all the excitement and anticipation paid off: On release day she broke Spotify's record for both the most-streamed album (184.6 million streams) and artist (228 million streams) in a single day in history and also got the highest number of first day streams of an album in history on Spotify, Apple Music and Amazon Music. Midnights also immediately occupied Spotify's top 13 and Billboard Top 100's top 10 during release week. Not only did this blow our minds but Taylor's as well:
Shortly after releasing Midnights, the singer-songwriter announced that she will be going on tour again in 2023, the first time since the Reputation tour in 2018! The Eras Tour will, as the name suggests, feature songs from different eras of her career. So far, only US dates have been announced but Taylor is hoping to announce international dates soon (they're highly anticipated, Taylor, just saying – an international fan). But the US leg alone already includes 52(!) dates within five months. Swifties couldn't wait to get their hands on a ticket but when the day came, the presale didn't exactly go as planned: too many presale codes, hours of waiting, skyrocketing prices, bots hoarding tickets for resales (those prices were as high as $88,000!) Long story short, not only Swifties are mad at Ticketmaster, even Taylor expressed her disappointment. But now the US Justice Department is also starting an investigation into the monopoly that Live Nation and Ticketmaster have had in live music ever since their merger in 2009, so maybe there's finally hope for regulations on ticket prices in the future.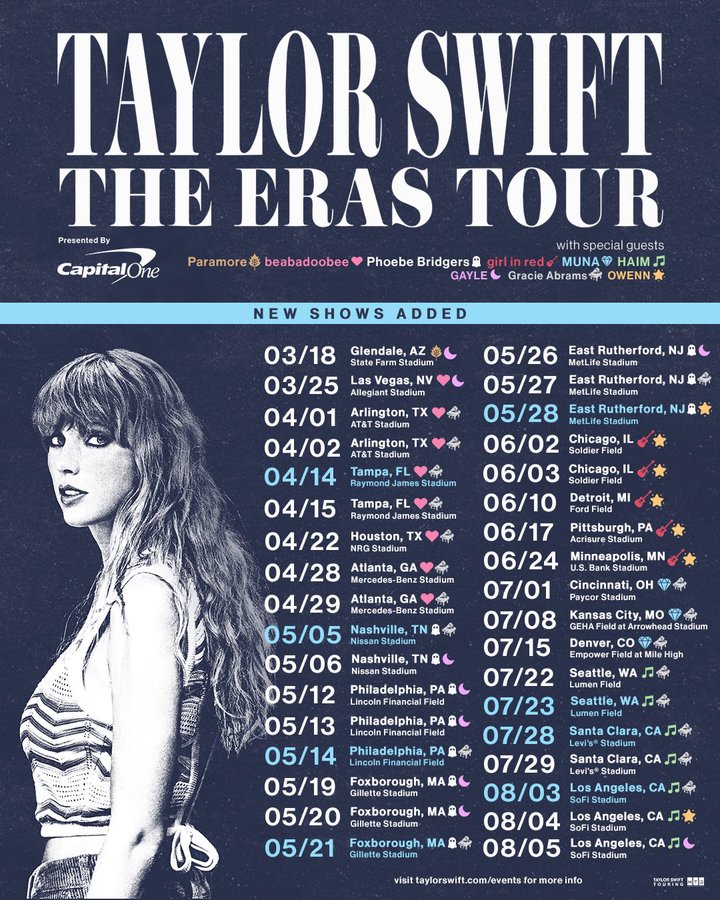 If you thought there isn't another field where Taylor played a role this year: You're wrong! Because she wouldn't be Taylor Swift if she didn't also have several songs trending on TikTok (aka SwiftTok). Some of the biggest trends used her songs Enchanted, Love Story, Wildest Dreams, Anti-Hero and The Great War. Recently, it was the lines "It's me, hi, I'm the problem it's me" (Anti-Hero) and "Somewhere in the haze got a sense I'd been betrayed" (The Great War) that filled users' feeds with tales of people's self-destructive behaviours, chaos-creating dogs, cheating partners and backstabbing friends. Enchanted and Wildest Dreams videos carried a whole lot of drama (the theatrical instead of the gossip kind this time) and main character behaviour, too. But life's no fun without some of that, right? And the newest revival of a Love Story trend now features toddlers filming their parents dancing while the camera is actually capturing their reaction. Don't watch these unless you want to catch baby fever. You've been warned.
Other things that happened this year (totally just minor things of course, like everything that involves Taylor): She received an honorary doctorate degree from NYU, spoke at the graduation of the class of 2022, saying that she's "90% sure that the main reason I'm here is because I have a song called '22", and released a class of 22 merch collection. Oh, and she is working on her first feature-length movie with Searchlight Pictures (since she has a song called If This Was A Movie, I suppose that she knows how to write a story for one).
After a remarkable 2022 it for sure looks like 2023 will once again have a lot in store for Taylor and the whole fandom. Let's just keep dancing like it's '22 and it will be just as good of a year! And Taylor, I hope you don't have too many bottles to clean up on new year's day…